MAP OF CALGARY COMMUNITIES FOR 2022
A simple guide for anyone searching through Calgary Communities today
REACH OUT TO YOUR REALTOR® TO LEARN MORE ABOUT THESE AMAZING COMMUNITIES.
In Calgary, it can be hard to keep up with all of the communities, even if you have lived in this city for years. Often times, when you ask someone where they live or work, they may say NW Calgary or SW Calgary, but typically they say something like "I live in Maple Ridge and my office is in Mission". If you are familiar with Calgary, an image likely pops into your head of these two communities, but if you are starting to learn the communities, these areas could really be anywhere in the city.
That is why we created this quick guide with images and PDFs for you to download.
As a REALTOR® in Calgary, I remember one of my first days on the job. I was brand new to Calgary and I sat down to discuss a first time home buyer's criteria. We planned to meet at Analog (which I had to Google by the way).
We sat down and after we introduced ourselves, we started discussing the communities and ideal home she would like to buy. I came armed with my MLS community map in hand and I felt like I could keep up. She mentioned such Calgary communities as Kensington, Marda Loop, and Lower Mount Royal. "Awesome", I thought, I know these communities. Then she asked me what I thought of Renfrew and Bridgeland. Her question was met with a blank stare. You know, like that look you give someone at a party when they are discussing their career and the technicality is way over your head.
She knew I had no handle on those communities. I mean, I couldn't really hide it. That is when I had to say I was new to Calgary, but if she chose me as her REALTOR®, I would work my butt off to know everything about each community she wanted to see. She now lives in a great condo in Altadore and I have since learned a lot about all of Calgary's awesome communities.
Of course, as a REALTOR®, I need to know the communities inside and out, but even just to have an image of where people are in Calgary is very helpful in day to day conversation. However, like most REALTORS®, just in case I need a reminder - I have the following photo on my wall (designed by a Calgary artist).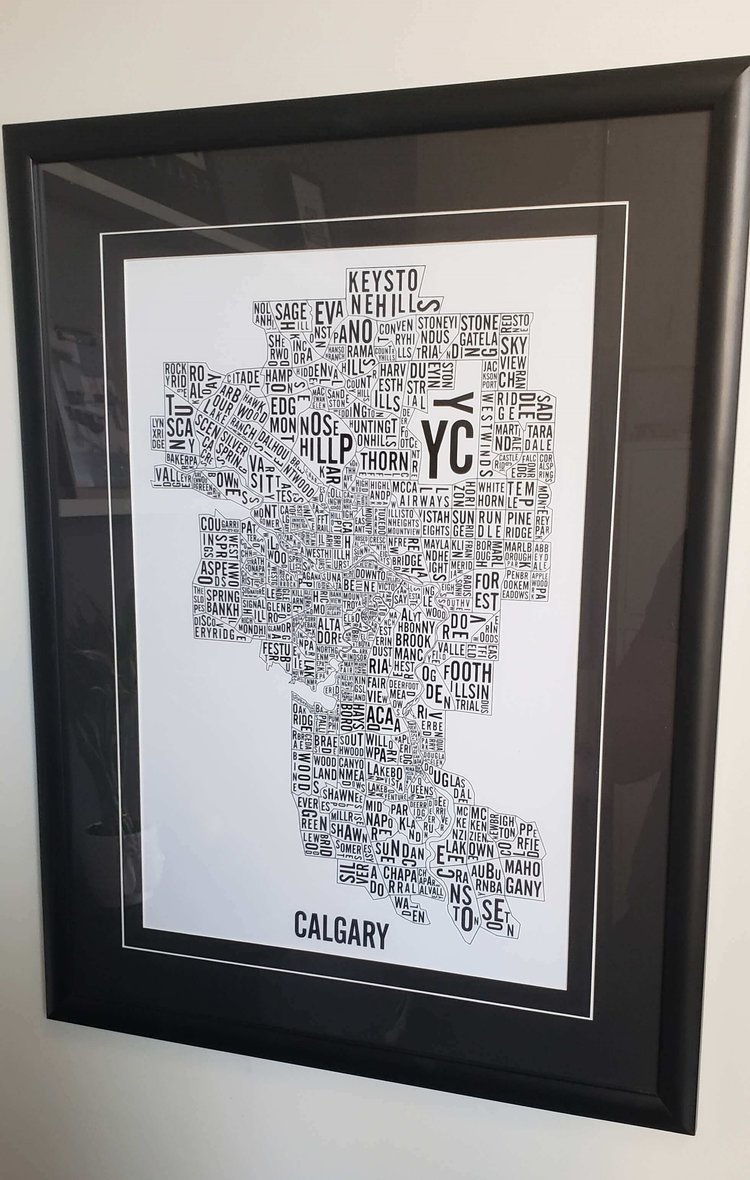 Let's jump into the communities and their areas.
The following will break down the communities by area. Important note: the areas are very closely aligned with the Calgary quadrants but not exactly (confusing I know).
Also, you can have a look a some of Calgary's top communities.
Inner City and Downtown Community Map for 2022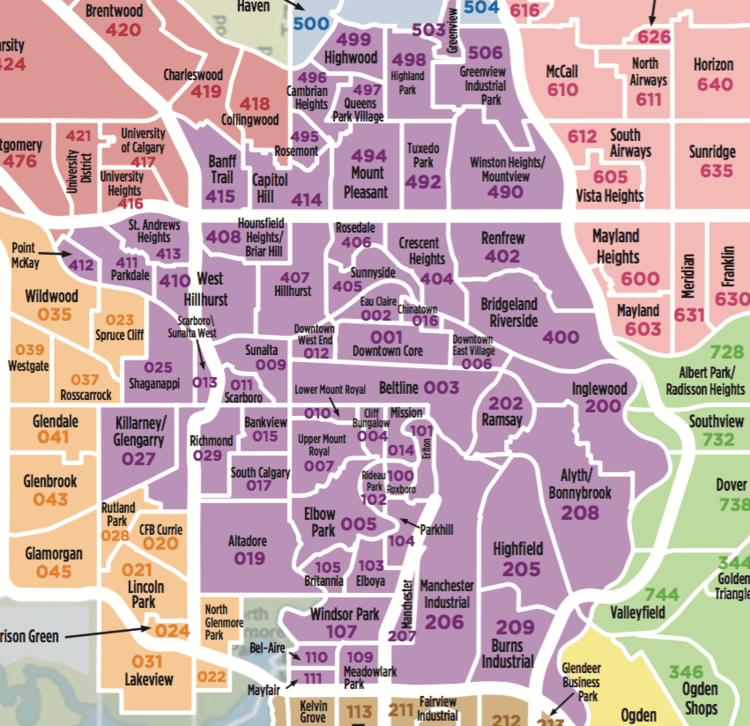 This community is titled City Centre, Calgary and consists of the communities in purple. Although there are no strict dividing lines, the Calgary Real Estate Board has made a great image of what most would call Calgary's Inner City. For the area as a whole, here are the current average home prices.
Detached: $675,000
Attached: $630,000
Row: $457,500
Apartment: $305,000
Search City Centre Listings Now
These communities have a lot of life and action and are largely considered Calgary's most walkable areas and bikeable communities. Take that with a grain of salt, because due to Calgary's urban sprawl, some would argue that such communities as Highland Park, Shaganappi, and similar communities on the outskirts of the City Centre are not very walkable. However, in most of these communities, there is a coffee shop and restaurant nearby.
Although every community is important, here are a few of the more notable communities:
Lower Mount Royal - Located just off of 17 Avenue SW. This community is exciting and has plenty of pubs, restaurants, night life, shops, and stores. This community is mostly made up of condos, but there are some attached homes and lovely heritage homes.
Upper Mount Royal - Just south of Lower Mount Royal, Upper Mount Royal is prestige at its finest. This area is mature and has some of Calgary's most luxurious homes. The homes might be a century old or they may be brand new. The streets are lined with old trees and there are plenty of parks. This community is very popular as it is minutes to downtown. You will only find large single family homes in this communities (with a few exceptions) and price point to match.
Beltline - This is Calgary's most densely packed area with a number of condos. These condos range in size, age, and style. Those living in the Beltline are drawn to being "where the action is". You can walk downtown in minutes or to the excitement on 17th Avenue SW. This community can be great for those getting into the real estate market as there are some cost effective condos in the community, but that's not to say there are no luxury condos. There have been sales north of $5 Million recently, so there are condos that appeal to everyone and all budgets.
Mission/Cliff Bungalow - These communities are just off of 17 Ave SW and 4th St SW. These two streets are hubs for foodies and those that like a nice glass of wine or coffee. Mission and Cliff Bungalow are beautiful communities with mature tree-lined streets and direct access to the Elbow River. Here you will find new and older condos with some lovely heritage homes along the side streets.
Altadore/South Calgary - These areas are split by 33 Avenue SW, also known as the Marda Loop area. This area has changed dramatically over the past few years and is a true hub for those looking for all the amenities they could imagine without the busyness of 17th Ave and Downtown. These communities are also very close to Mount Royal University. There are a number of property types from entry level condos to multi-million dollar properties. These communities have been turned over and now house mostly infill properties. These are new homes built on older lots. Marda Loop is a fantastic area being quick to downtown and right off of Crowchild Trail, one of Calgary's main arteries.
Hillhurst/West Hillhurst/Sunnyside - These areas are more commonly known as Kensington. This popular community is just north of downtown and is on the other side of the Peace Bridge. Similar to other inner city communities just off of downtown, Kensington is full of life and energy. It is a popular community with a variety of property types. There are some strict height restrictions in Kensington meaning you will not see the towering concrete condos that you will in Beltline. This creates less inventory in these areas, meaning prices can creep up. It is truly a lovely community and one walk down Kensington Road and you will know why people love this area.
Bridgeland/Renfrew/Crescent Heights - Although these are separate communities, there are some commonalities. Located just north/north east of downtown and off of Edmonton Trail, these areas are mostly walk-able to downtown and have a vibrant feel. 1st Ave has a number of shops, coffee stores, restaurants, and fitness studios. People are very drawn to the heritage and character homes in the area. Also, there are a number of options for new infill properties, and condos. This community has some delicious Italian food and is home to one of Calgary's most beloved stores, Bridgeland Market.
Inglewood/Ramsay - Are your ready to let your artistic side out? We hope so because Inglewood and Ramsay have a lovely artistic feel and community to them. The residents are very involved in their community and walking down 9th Ave SE, you will see live music shops, record stores, galleries, restaurants, pubs, and breweries. The location just south of the Bow River means you can easily jump on one of the main paths along the river and walk forever! The artistic side of these communities doesn't just end at the stores, walk down the street and you will be greeted by colourful homes, new-contemporary homes, and townhomes. This community is for you if you are looking for a vibrant community culture and lots of fun.
Mount Pleasant/Capitol Hill/Banff Trail/Winston Heights/Tuxedo Park - These communities are just north of 16th Ave NW, meaning you are very close to the main road to Banff. Each of these communities has a distinct feel and community. Along the main roads such as Centre Street, 4th Street, 16 Ave, you will find plenty of restaurants and shops. These communities are also very close to SAIT and the University of Calgary. Here you will find some mid-century homes, heritage homes, and brand new infills.
Quickly, let's not forget these other popular communities:
Parkdale - Very close to Foothills Hospital and the University of Calgary.
St. Andrews Heights - Luxury living in large homes north of the Bow River. Close to Foothills Hospital and the University of Calgary.
Killarney - A popular community with a number of infill homes and row homes. This community is a nice balance between quiet living and being close to downtown.
Elbow Park/Britania/Parkhill/Elboya - These areas are highly sought after premium areas. The homes are mostly large with amazing lots. Although more expensive to break into, these communities have a feeling like you could live there forever.
West Calgary Community Map for 2022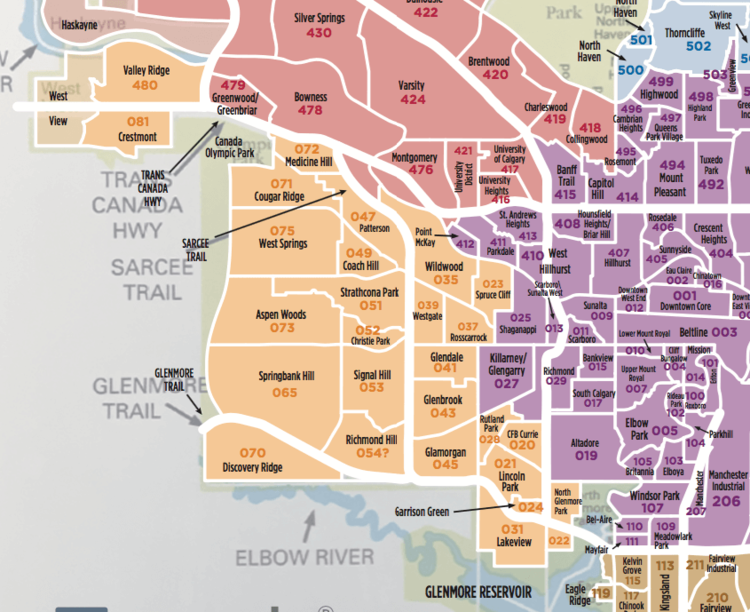 Welcome to the west, an amazing area of Calgary with a strong family focus. These communities have great schools and amenities for Calgarians. The C-Train heads straight west of downtown making it a perfect area for those that which to take rapid public transit downtown, but also live in a fantastic home.
For the area as a whole, here are the current average home prices.
Detached: $672,075
Attached: $411,000
Row: $356,850
Apartment: $265,000
The other great thing about the west, is you are as close to the mountains as you can get in Calgary. These communities also attract those weekend warriors that love to get outside on the weekends and hike the beautiful trails or ski the mountains.
Here are a few notable communities.
Glendale/Glenbrook/Glenmorgan - We refer to these as the "Glens". They are great communities on the edge of the City Centre area. These communities are very close to downtown by vehicle, bus, or train (Glendale/Glenbrook). You have lovely mid-century and 70s-80s single-family homes in these communities as well as some brand new infill homes.
Strathcona Park/Coach Hill/Christie Park/Westgate/Wildwood - Again, it's hard to put all of these great communities under the same umbrella but they do have some similarities when it comes to amenities and property types. There are all the services you could ask for in these areas and the schools are fantastic. Mostly, there are single family homes ranging in age from 60s-90s. These areas remain quite desirable because they are still a quick shot downtown.
Lakeview/North Glenmore Park - Are you interested in living in Calgary but feeling like you are outside of the city? Then these communities have your name written on them. Located just off the Glenmore Reservoir, these communities feel separate from the hustle of the city, while just being a short drive from downtown. Given their location up against the Glenmore Reservoir, there are walking trails and paths galore where you will feel like you are miles from the city centre. There are a good number of amenities like grocery stores, golf, a bakery, and a pub. Properties are mostly all single-family homes both new infills and 60s-80s.
West Springs/Aspen/Springbank Hill - Located on the west side of the city, you would think these are way out there, but that is not the case. You still aren't far from downtown by car, bus, or train and there has been a ton of development in these areas bringing amazing restaurants, specialty grocery stores, shops, fitness centres, and everything else you could ask for. Again, the schools are great and the communities are very family-oriented. Homes are mostly single-family properties ranging in age from 90s to brand new developments.
Let's not pass over these ones either:
Crestmont/Valley Ridge - If you love the mountains, these are great for you. They are just off of 16 Ave (Highway 1) so you are a straight shot to the mountains. They are nicely tucked away from the busy downtown lifestyle and therefore attract a variety of great people and is family-friendly.
Discovery Ridge - A sneaky community tucked away just south of Glenmore Trail, this community is the closest thing to living in the mountains in Calgary. The homes have rock/stone exteriors and have almost a chalet feel. You are a short drive to downtown, but you can zip out to Bragg Creek in an instant.
North West Calgary Community Map for 2022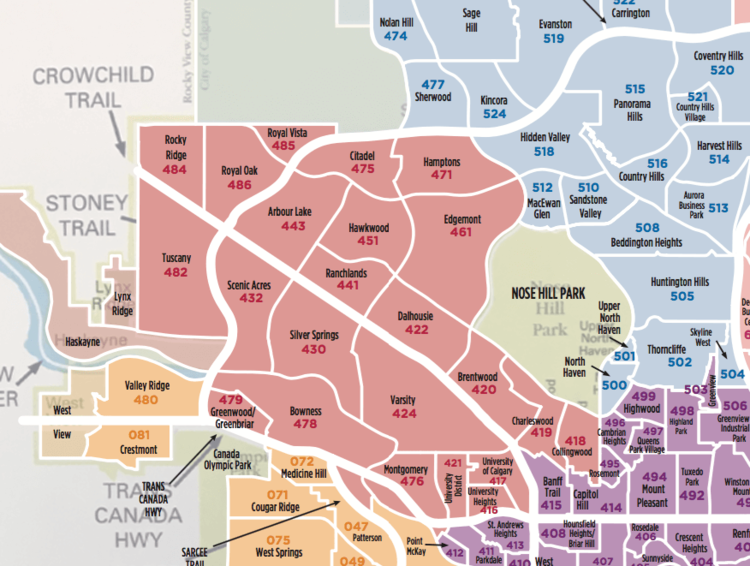 Calgary's northwest (NW) has a number of great communities and new areas in the works. Bordering 16th Ave NW and Nose Hill Park with Crowchild Trail running right down the centre, these areas have great accessibility. Also the C-Train travels right up Crowchild giving great means of transportation for those looking to get downtown, south, or to school.
Let's look at some current average home prices.
Detached: $543,000
Attached: $345,000
Row: $310,000
Apartment: $238,000
Search Northwest (NW) Listings Now
Similar to the west, Calgary's northwest has great schools and is home to the University of Calgary.
Here are some notable communities:
Bowness/Montgomery - These exciting areas were once towns in themselves and when you drive through them, you will get a small town vibe. These communities cater to those that work or attend the U of C and those that are affiliated with the Foothills Hospital. These communities border The Bow River, giving them a great "outdoorsy" feel. There is a strong community feel in these areas and there are plenty of amenities. There are a range of properties and can be great for those looking to break into the single-family market.
Varsity/University Heights/University District - In case the names didn't give it away, these communities are directly beside the university. They are perfect for students but also those that work at the university or Foothills Hospital. Market Mall is right in the centre of these communities so you have everything you need at your fingertips. There is some big variation in property types in these communities. For example, University Heights has large older homes and has a higher price point, whereas, University District is a brand new community being built on a university land lease and will be home to brand new condos and townhomes.
Dalhousie/Ranchlands/Edgemont/Hawkwood/Arbour Lake - These communities are very close (or directly on) Crowchild and Nose Hill Park. They are great communities with a variety of property types and they are very close to Crowfoot, a NW hub for everything you could possibly need. Here you can catch a movie, grab dinner, workout, shop, and grab groceries. There are some differences between the communities but all are very desirable. Arbour Lake is Calgary's only NW lake community making it perfect for families with kids. Dalhousie has some of the most interesting homes and lots out there and Edgemont has 90s homes that are quite large.
Tuscany/Royal Oak/Rocky Ridge - These new communities again have the luxury of being close to the C-Train and near the shopping at Crowfoot. Also, as development continues in these areas, we are seeing such things as a brand new YMCA facility and new homes. You can choose from well priced single family homes, condos, or townhomes.
And we can't forget...
Scenic Acres/Silver Springs - The name Scenic Acres says it all, nicely tucked away off of Crowchild, these communities are quiet and have a number of gorgeous single family homes.
Citadel/Hamptons - These are just off Stoney Trail giving them great access to the Calgary ring road (in process of being built). There are a number of property types to choose from and you are still very close to Nose Hill Park.
North Calgary Community Map for 2022
We are the north! Welcome to Calgary's family friendly and rapidly growing north. There are some great services and you border Deerfoot Trail and Stoney Trail giving most communities great access. New communities such as Livingston and Carrington are really turning some heads with how quickly builders are selling the homes in these areas. Also, the Green Line LRT is planned to move up Centre Street providing some nice anticipation for residents and future residents.
Here are the average home prices:
Detached: $450,000
Attached: $316,000
Row: $299,250
Apartment: $219,500
These communities are also near Nose Hill Park giving a great area for those looking to do some in-town hiking, trail running, or mountain biking. Furthermore, development north of Stoney Trail has come a long way giving residents a number of amenities.
Here are some notable communities:
Carrington/Livingston - They are new and they are selling fast. These neighbourhoods have brand new properties being built and buyers picking them up as quickly as the builders can build them. Being on the north side of Calgary, you can quickly get up to Edmonton without fighting through Calgary traffic to get on the highway. These are great communities to watch as they begin to take shape.
Evanston/Sage Hill/Kincora/Nolan Hill/Sherwood - These are new communities with demand remaining strong over the past few years. There have been a number of amenities developed over the last few years including a Costco, large specialty groceries, movie theatres, and lots of shops. These neighbourhoods attract families, but they have been so popular that the city is trying to keep up with the need for schools. They have come a long way in the last few years and are well on their way to building more schools. There has also been talk of a large hospital being developed around these communities and the Green Line LRT is tentatively planned to provide service to these areas.
Thorncliffe/Huntington Hills - These communities are centrally located off of Centre Street and Deerfoot. Given these roads, accessibility is great and there are a number of services in the area as well as schools. Being on Centre Street, the Green Line LRT will be an additional means of travel for those in these communities.
Let's not forget these ones...
McEwan Glen/Sandstone - Talk about great family neighbourhoods here. These communities have homes from the 90s to early 2000s and have proven to be great family neighbourhoods with schools, parks, and entertainment nearby.
Country Hills/Coventry Hills/Panorama Hills - These three "hills" and their surrounding communities are a great spot to settle down. There is close access to Deerfoot and Stoney Trail and you have every service you could imagine in these areas.
North East Calgary Community Map for 2022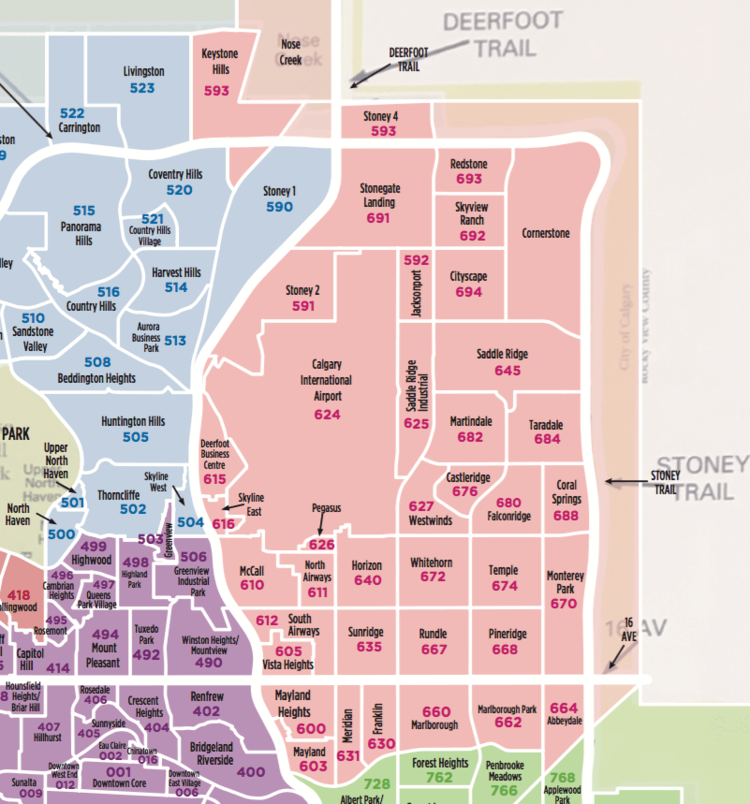 Welcome to Calgary's North East (NE) MLS Map. The NE is home to both amazing mature and brand new communities. Also, NE Calgary is home to the international airport, the Peter Lougheed Hospital, and just off the C-Train Line. Like the north, the NE has new communities sprouting up in the northern parts.
Here are the average home prices:
Detached: $375,000
Attached: $257,500
Row: $235,000
Apartment: $180,000
Search Northeast (NE) Listings Now
The NE has a wonderful culture with some of the best east-Indian cuisine and worldly food. There is great access to Stoney Trail and 16th Ave. Furthermore, in 2022, there are strong job prospects for Calgary's NE communities.
Let's learn about a few notable communities:
Cornerstone - This lovely new community has really taken shape over the last year. Located just off of Stoney Trail, access to main roads from Cornerstone is a breeze. You are also a stone's throw to Crossiron Mills for all your shopping needs. One of the distinct and inviting way builders are catering to the community is they are putting features such as spice kitchens, suites, and main-floor bedrooms to make living easy and enjoyable for all.
Mayland/Vista Heights - These great neighbourhoods are just off of 16 Ave and Deerfoot Trail. This means they are only a 10-minute drive to the downtown core. There are beautiful tree-lined streets in these communities and the accessibility can't be beaten. Here you will find renovated bungalows and original homes on great-sized lots.
Rundle/Whitehorn/Marlborough/Sunridge - If you need to get somewhere in Calgary, these communities have you covered being just off the C-Train line. These communities are also near the Peter Lougheed Hospital. Two of Calgary's larger shopping centres are located in these communities and the area of Sunridge and Rundle have some interesting redevelopment plans. Here there are a variety of property types to choose from single family homes, attached properties, apartment condos, and townhouse condos.
Let's not forget about these...
Coral Springs - NE Calgary's lake community. This community is tucked up against Stoney Trail giving great access and you can enjoy your summers out at the lake from you own backyard.
Redstone/Skyview Ranch/Cityscape - If you like new, these communities are perfect for you. There are a number of new homes to choose from and you can select a number of property types. These new communities have gained a great deal of popularity over the past few years.
East Calgary Community Map for 2022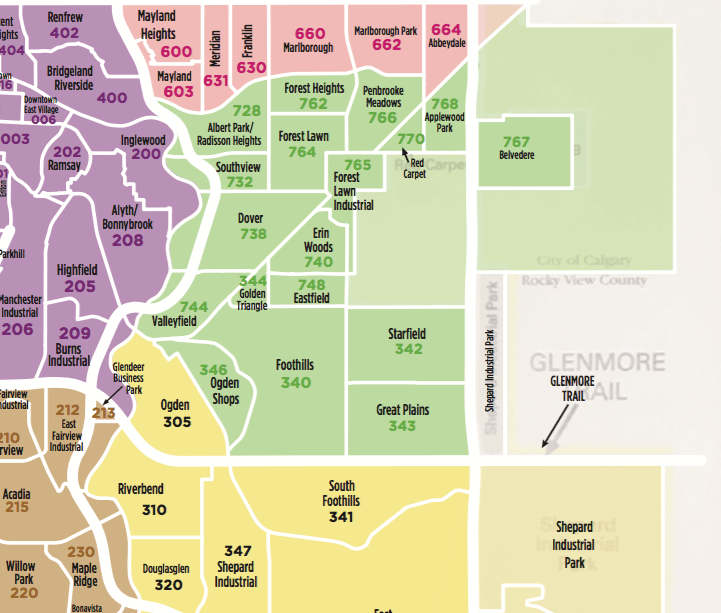 Welcome to the small but mighty east Calgary neighborhoods. Don't let the size fool you, there is a lot going on in these communities and it is home to Calgary's 17 Ave SE (International Avenue). International Ave is known for some of the best food in Calgary and development along this street is well underway this year. The plans for this street are quite stunning and it is exciting to watch the modernization of this great street.
Here are the average home prices:
Detached: $319,500
Attached: $215,000
Row: $185,000
Apartment: $148,000
These communities enjoy the accessibility of being right off of Memorial, Stoney Trail, Deerfoot, and Glenmore Trail. This means you can travel in all directions without fighting through too much traffic. Also, these communities are quite affordable allowing those wanting to stick to their budget the ability to get into a house for a reasonable price.
Some notable communities include,
Forest Heights - Sometimes called the best kept secrete for communities, Forest Heights is a pleasant community, tucked just south of Memorial. This community is gaining popularity with those that travel downtown for work, as you are a quick commute along Memorial to the office. There are a number of properties to choose from and many services in the area.
Forest Lawn/Erin Woods/Dover - Being so close to International Ave, these communities are very close to tasty food, shops, and amenities. There are a number of schools in the area and variety property types to choose from. For those that work in Calgary's South East industrial areas, these communities can be a great pick as you can easily scoot over to Foothills Industrial or Shepard.
Let's not forget these areas...
Valleyfield/Southview/Albert Park - These communities rest on the hill where there can be beautiful views of downtown from the streets and parks. Since they are near the convenient roads, they are great areas for those travelling around town for work or pleasure.
South East Calgary Community Map for 2022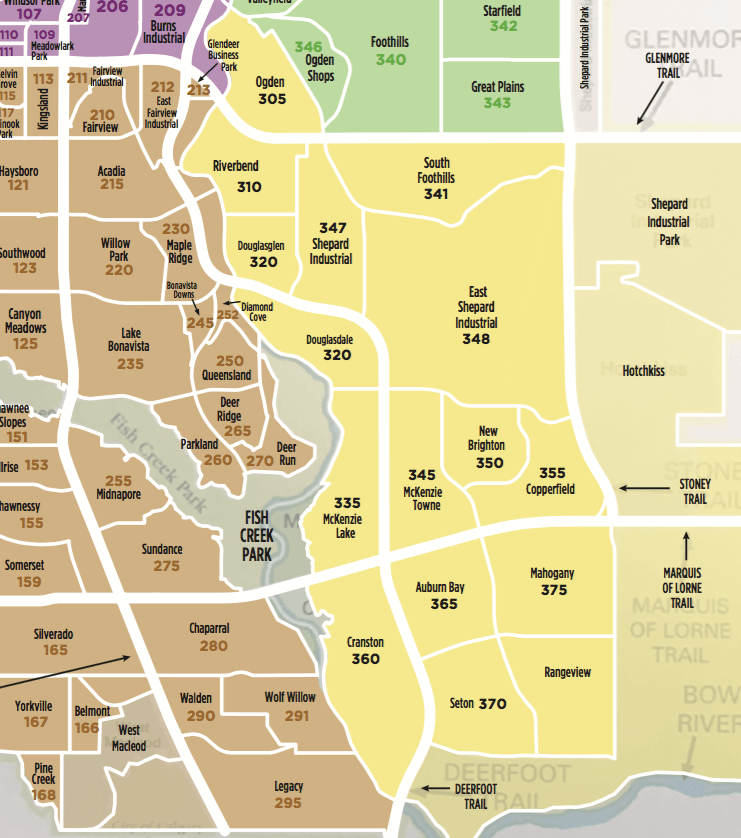 Welcome to Calgary's southeast, a hotspot for welcomed master plan developments, lake communities, family-friendly amenities, and Calgary's massive South Health Hospital. These communities really vary from the "new downtown" feel of Quarry Park, to the welcome area of McKenzie Towne, to the amazing new lake communities of Auburn Bay and Mahogany. With plans for the new Green Line LRT, these communities are excited to have a quick route downtown.
Here are the average home prices:
Detached: $455,000
Attached: $323,000
Row: $295,000
Apartment: $225,000
Search Southeast (SE) Listings Now
Driving throughout these areas, you will be greeted by shops, trendy restaurants, yoga studios, delicious coffee shops, and certainly a few friendly residents. The diversity of these communities allows for many home buyers to be attracted to these neighbourhoods. If you would like a great lake community, if work at the hospital or you are looking for a trendy condo, look no further.
Let's look at some notable communities:
McKenzie Towne, New Brighton, Copperfield - These popular communities have a large draw for those looking for a good sized property and wish to be in a family friendly area close to schools. McKenzie Towne Square offers some lovely little shops and restaurants while 130 Avenue SE has a number of larger box stores and mainstream cuisine. These are populated communities giving home buyers a wide range of options in property types with home ages ranging from early 2000s to brand new.
Quarry Park (Douglasglen) - Quarry Park is a stunning master planned development just off of Deerfoot and south of Glenmore Trail. This is a unique community in Calgary, where the developer, Remington has created a residential area combined with large office buildings. Some of Calgary's larger companies like Imperial Oil, Jacobs Engineering, and Cardel now call Quarry Park home.
Riverbend/Douglasglen/Douglasdale - You're probably wondering why is Douglasglen wrapped into this group versus with Quarry Park (since Quarry Park is in Douglasglen). That is because these communities are quite different and Douglasglen most ties in with Riverbend and Douglasdale. These communities are family friendly areas with 90s homes and have access to some fantastic valley walking trails. The schools are top notch and the services in the area are perfect for a family of any size.
Auburn Bay/Mahogany/Seton - Grab your swimming trunks because if you want lake life, Auburn Bay and Mahogany are for you. These family communities are centered around their man-made lakes that allow access to only those in the community. This is a massive draw for buyers as is the South Health Hospital. Seton is not a lake community but is home to the hospital and commercial services that appeal to many in the area. Furthermore, Seton continues to grow and development is making progress every day. There are a number of options in these communities from well-priced condos and townhomes, to multi-million dollar homes backing onto the lakes.
And we can't forget these ones...
McKenzie Lake - This community is perfect for families that love the outdoors and are looking for lake life. This is another lake community in Calgary and rests against Fish Creek Park meaning you can run, hike, walk, and bike all day in the woods while being right beside your house.
Cranston - This large community is new and pulls in those that work in the area and people that work downtown. Yes, it is further from downtown, but the amenities and size of homes are worth the slightly longer commute to get downtown. You will find great new and mid-2000s style homes in this neighbourhood.
South Calgary Community Map for 2022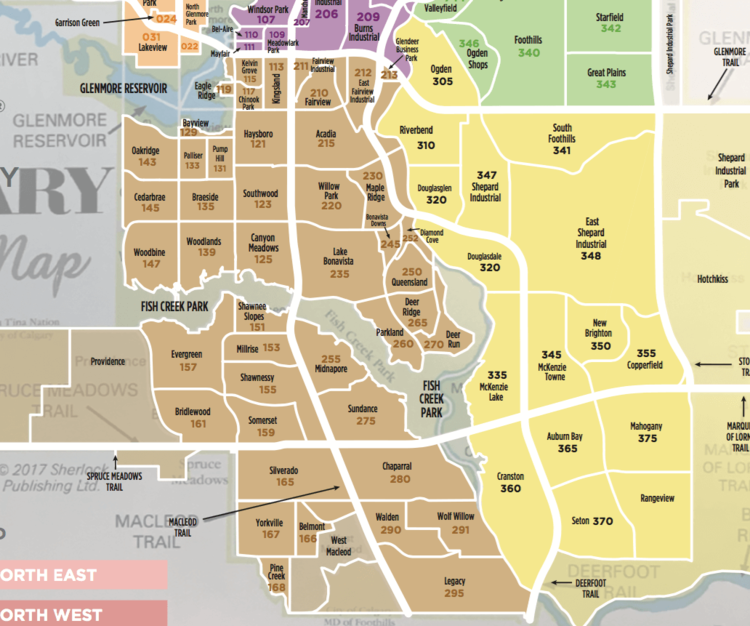 Welcome to the South Calgary Communities. Now, these are referred to as South Calgary, but to make things confusing, this is not "South Calgary" the community located in City Centre, also the addresses will be in both SW and SE. I guess the real estate industry likes to keep us on our toes with these MLS maps. These communities will have a home and community type for everyone. Need parks, a lake community, future development potential, luxury, or a renovated bungalow? Whatever your needs are, these communities will have you covered.
Here are the average home prices:
Detached: $475,000
Attached: $297,000
Row: $270,000
Apartment: $211,000
Some of these areas have been challenged with access over the years but with Stoney Trail and the new Stoney Trail development, accessibility has/will be dramatically improved. The C-Train runs right from downtown all the way south along Macleod Trail. These communities also have the luxury of being near Fish Creek Park and the Glenmore Reservoir, so there is never any shortage of green space for you to enjoy.
Let's look at some notable communities.
Cedarbrae/Woodbine/Evergreen/Bridlewood - These communities are similar in ways and quite different in others. The new ring road is being built beside these communities helping provide a great access point for vehicles. Also, they are very close to Fish Creek Park giving everyone fun activities throughout the year. Evergreen and Bridlewood will have 90s and early 2000s homes while Cedarbrae and Woodbine will cater perfectly to those that prefer 70s and 80s homes.
Midnapore/Sundance/Chaparral - The lakes are here for you! These three communities all have fun outdoor activities being they are lake communities and each community will have homes that appeal to a different buyer. Do you love 60s-80s homes? Focus on Midnapore. More of a 90s-2000s type? Sundance is your place. Looking for the mid-2000s and new homes? Chaparral is there for you.
Willow Park/Lake Bonavista/Maple Ridge - These mature neighbourhoods offer beautiful large trees, quiet streets, and fantastic schools. Given the proximity to Macleod Trail, you have everything you need for amenities within driving distance and Willow Park offers some great local shops for you to grab a craft beer, coffee, or a bite. Here you will find homes ranging from 50s-80s and they are mostly on large mature lots.
Millrise/Somerset/Shawnessy - If you are looking for a quick shot downtown on the C-Train but also want a spacious house or condo, these communities are for you. Located just off of Macleod, you are directly off the C-Train and the homes and area are built with a family-friendly vibe in mind. Again, being close to Fish Creek Park gives you great options for those that love the outdoors. Also, if you are a downsizer, there are some interesting condo projects that are geared towards downsizers in these communities.
Haysboro/Acadia/Fairview - Looking at these communities on a map you will see you are basically situated off of Macleod Trail and Glenmore Trail. These two main arteries make movement around the city a breeze and they are also very close to Chinook Mall and Heritage Park. These communities have mature lots and trees making it perfect for those that love mid-century homes.
Let's not forget about these...
Silverado/Belmont/Walden/Legacy - The new communities of the SW/SE. There is a lot of development in these areas and Calgary continues to grow south. Moving here you will have new and future amenities in your area and you will be able to first hand see brand new communities take shape.
Pumphill/Bayview/Eagle Ridge - Luxury living awaits! These communities combine large and beautiful older homes with brand new mansions. The lots are huge and you have direct access to the Glenmore Reservoir. If you are looking to be relatively close to downtown and want to feel like you live on an acreage (but be in town), these luxury areas are a perfect fit.
Queensland/Deer Ridge/Deer Run - Built down and into Fish Creek Park, you are surrounded by green and trees. These communities have some great properties and the price point is hard to beat. Desirability remains strong in these areas as there are a number of amenities and you are in a quiet area of Calgary.
There you have it! Your 2022 Calgary MLS and Community Map with a breakdown of certain communities. It's a shame we couldn't highlight each community as they all have their own look and feel. As you are exploring these area's don't hesitate to reach out to us or your REALTOR® to learn more specifics of each.
Happy House Shopping
- Michael Montgomery