Renfrew Homes for Sale
In this guide, you will find all the community information complete with the current Renfrew houses for sale. Browse all the current listings and feel free to filter your search by property types such as condo, townhouse, bungalow, or duplex.
Renfrew General Community Information
Renfew has a variety of houses and condos for sale including infills, character houses, luxury real estate, townhouses, and bungalows. Renfrew is an established community located in NE Calgary. The location borders 16th Ave NW (Trans Canada Highway), Edmonton Trail, Deerfoot Trail, and 8th Ave NE. People living in Renfrew love the walking to downtown, easy drive to the Calgary Airport, tree-lined streets, parks, restaurants, coffee shops, and fantastic schools.
Renfrew
November 29, 2023
Renfrew Community Profile, Prices, and Market
In Renfrew, there are 6,605 private households with the greatest age distribution of 25-40 years old. Given there are a number of unique property types in this NE community, house prices can vary depending on the listing. Here are the current average Renfrew real estate prices.
Detached House: Approximately $615,000
Semi-Detached (Duplex): Approximately: $740,000
Apartment Condo: Approximately $240,000
Townhouse: Approximately $290,000
As Renfrew is an established community, buyers have the option of purchasing any of the following: new house for sale, semi-detached (duplex) infill, low-rise condo, character house, luxury real estate, a lot with development potential (RC-2), or a trendy townhouse.
The Renfrew Community Association located at 811 Radford RD NE. The community association is very active in this area and their website has a lot of information, events, groups, hall rentals and more.
This Calgary community is boarded by Cresent Heights, Bridgeland, Winston Heights, and Mayland Heights.
There are a number of gorgeous streets to drive in this community. If you are considering buying a house in Renfrew, take a drive down 7 Ave NE for the view. For streets, you can also enjoy the tranquillity of Reader Crescent and the activities around Bridgeland Park.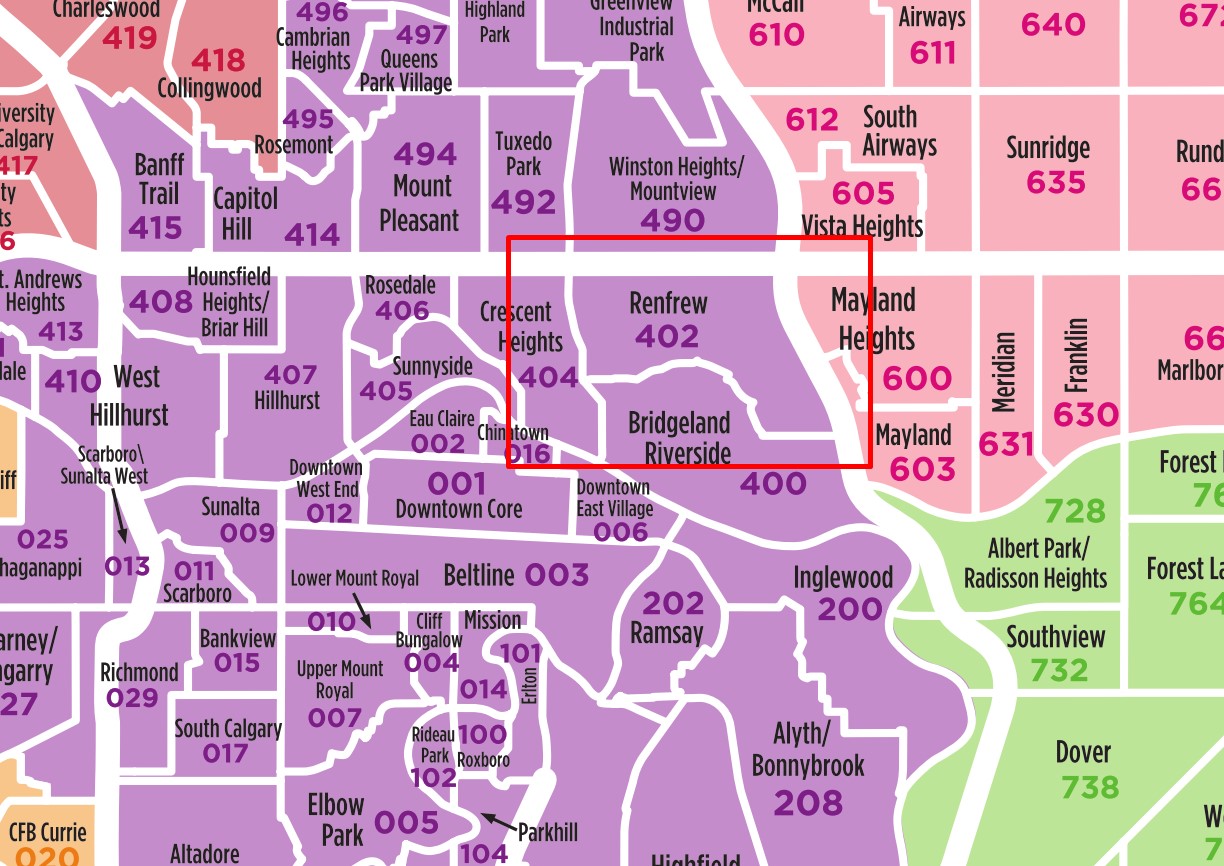 Renfrew Coffee Shops, Restaurants, and Amenities
One of the perks of living in Renfrew are the amenities, coffee, restaurants, and shops.
If you are looking to grab a coffee, be sure to try the SS106 Aperitivo Bar, Diner Delux/Affogato, Cafe Freed, Namo Cafe Bistro, or you can grab a bubble tea at Bubblemania Cafe.
There are some fantastic restaurant options for those in Renfrew. If you are looking for breakfast or brunch, Diner Delux is very popular as is Namo Cafe Bistro.
As for lunch and dinner, check out Blowers & Grafton, Boogie's Burgers, Big Fish, Open Range Steakhouse, Tavernetta, or POW Pizza. You will not be disappointed with these great spots.
The Renfrew Aquatic & Recreation Centre is located at 810 13 Ave NE and is a popular spot for families and fitness enthusiasts. The facility has lane swimming, weight rooms, hot tubs, and steam rooms. If you are looking for yoga, you can venture into Bridgeland for Journey Yoga Wellness.
For Renfrew grocery stores, check out the local Stanley Jones Grocery, Bridgeland Market for specialty items, or the Nose Hill Co-Op for all your grocery shopping.
If you are looking for parks, there is Renfrew Park and Renfrew Community Playground. Also, there is the Renfrew Athletic Park. There is also a dog park off of 8th Ave NE.
Although not directly in Renfrew, the top things to do in the area include visiting the Calgary Zoo, Calgary Tower, Glenbow Museum, Telus Spark, Prince's Island Park, East Village activities, and Tom Campbell's Hill Natural Park.
Top 10 Reasons To Live in Renfrew
Here are the top reasons to choose to live in this community! The list could extend beyond 10 reasons but these are the top-recommended reasons to buy a house in this lovely community.
Proximity to Downtown - Without a doubt, one of the main reasons people look to move into this community is the quick commute to downtown. Whether you walk, bike, scooter, take the bus, or drive to work, you will be there in no time if you live in this inner-city Calgary community.
Resturants - There are some of Calgary's best spots in this area! In particular, there is some great Italian cuisine and fantastic brunch spots in the area.
Amenities - In the direct area of Renfrew, you can catch a yoga class, enjoy the public swimming pool, easily pick up your groceries, or grab a cup of coffee at one of the great spots. Also, the schools are highly rated in Renfew.
Accessibility - One of the great things about living here is the fantastic accessibility. You can jump on 16th Ave and drive straight out to Banff or you can easily access Deerfoot to drive North/South. This is a huge perk if you travel.
Airport - From Renfrew, you are a short 15-20 minute drive to YYC Airport. This is a huge perk for those who travel for work or just like to escape from Calgary every once and a while.
Mature Trees - People looking for homes for sale in inner-city Calgary are usually drawn to the maturity of the neighbourhoods. The main factor buyers are looking for in a mature neighbourhood, is large tree-lined streets and parks. In Renfrew, there are beautiful old trees and fully developed shrubs. This neighbourhood is perfect if you are looking for mature trees.
Community Association - The community association in this community is actively involved with the neighbourhood. This means there are regular meetings, ongoing social events, and a great deal of community consultation.
Property Types - The homes for sale in Renfrew will include almost any type of property that you are looking for. There are condos, townhouses, character homes, bungalows, infills, luxury properties, and everything in between.
History - This lovely community is rich in history. Established in the 1940s when the Calgary airport was relocated, there is a lot of preserved history with churches, properties, and parks.
Active Lifestyle - There are endless opportunities if you enjoy an active lifestyle. This includes the Renfrew Aquatic Centre, Nose Creek Pathway, Fitness Centres, and outdoor skating in the winter.
Renfrew Schools
Renfrew has fantastic schools in the community and surrounding area. Be sure to check with the Calgary Board of Education or the Calgary Catholic School District to find your designated school. Schools serving this area include Stanley Jones School (K-6) as well as St. Alphonsus Elementry (K-9). For junior high school, there is Colonel Macleod School and high schools students will likely attend Crescent Heights High School.
If you are looking for daycare, there is the Rockabye Daycare and, in neighbouring Bridgeland, you will find the Calgary Childcare Centre and Kids U.
Renfrew Distance To Downtown
If work takes you to downtown Calgary, there are a few ways for you to get from this community to the office. The distance from Renfrew to downtown can depend on where your property is located and where you are going, but a general rule of thumb is a 20-30-minute walk, a 10-20-minute bike ride, a 5-minute drive, and 30-minute bus ride.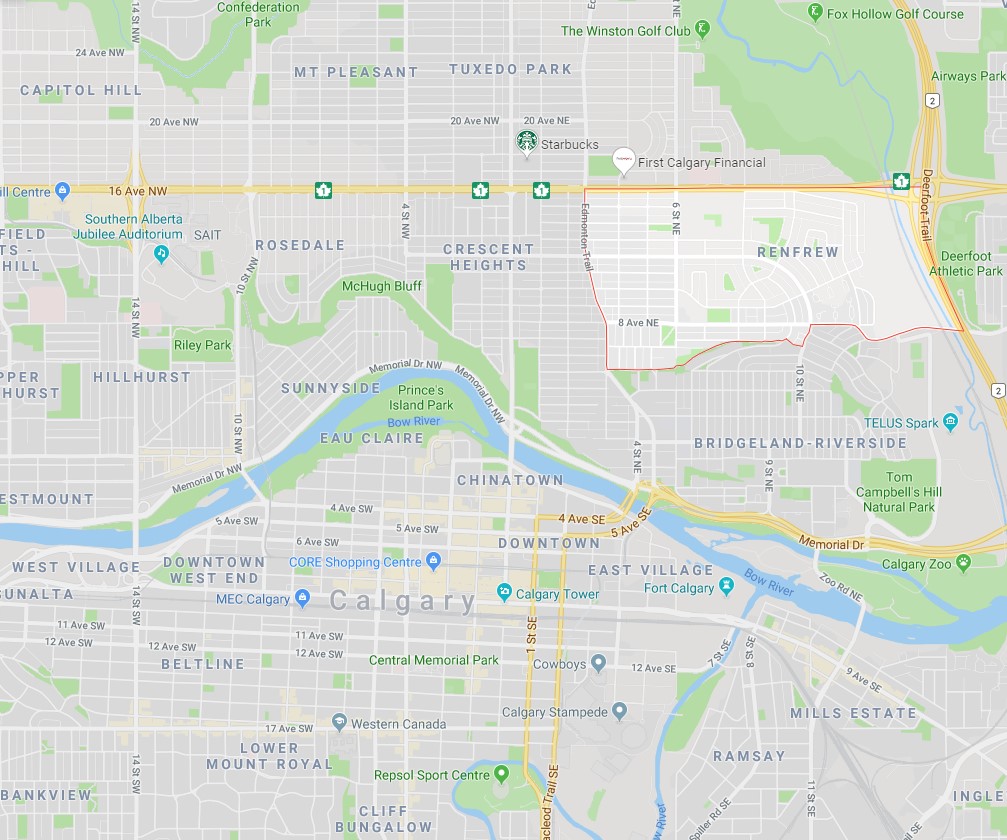 If walking from Renfrew, you may look to walk through Crescent Heights and through Rotary Park to take the Centre Street bridge into downtown. Also, you can walk south through Bridgeland and cross into East Village.
Renfrew Condos For Sale
If you are looking to purchase a condo for sale in this community, there are a number of options to choose from. Most of the condos are four storeys or less and there will be options everything from brand new condos for sale as well as older apartments.
Some notable condo complexes in Renfrew include 43 Park, Adora Building, Bethlehem Square, Bordo Series, Brunette by Batistella, Eagle View, Exul, LiFTT, Next, Portico, Renfrew House, Renfrew Manor, Regal Park, Regal Terrace, Sole Vista, The Ellington, Vivo Condos
Browse all the current condos for sale in Renfrew
Renfrew Condo Listings
November 29, 2023
Renfrew Realtors
If you are looking for a Renfrew Realtor to help you buy or sell in this community, Renzo Real Estate is here to help you through this process. Feel free to reach out to Renzo Real Estate at 403-604-0300 or text 587-227-6204. If you are looking for your current home value and prices in Renfrew, please contact us today for a free home evaluation!
Similar Communities
Bridgeland, Crescent Heights, Tuxedo Park, Winston Heights, Mount Pleasant, Mayland Heights
Sources:
City of Calgary Renfrew Profile