The Free Move Program in Calgary and Area
Let's be honest, moving is stressful, costly, and difficult to organize. When you buy and sell with Renzo Real Estate in Calgary and surrounding areas, you can skip the moving costs. Say goodbye to tweaking your back, denting walls, stepping over pets, and trying to squeeze the blender into the right box.

And the best part, you choose your desired moving service and plan that suits your lifestyle. You can select moving companies, truck rental, packing services, and storage. Let's take the stress and cost away!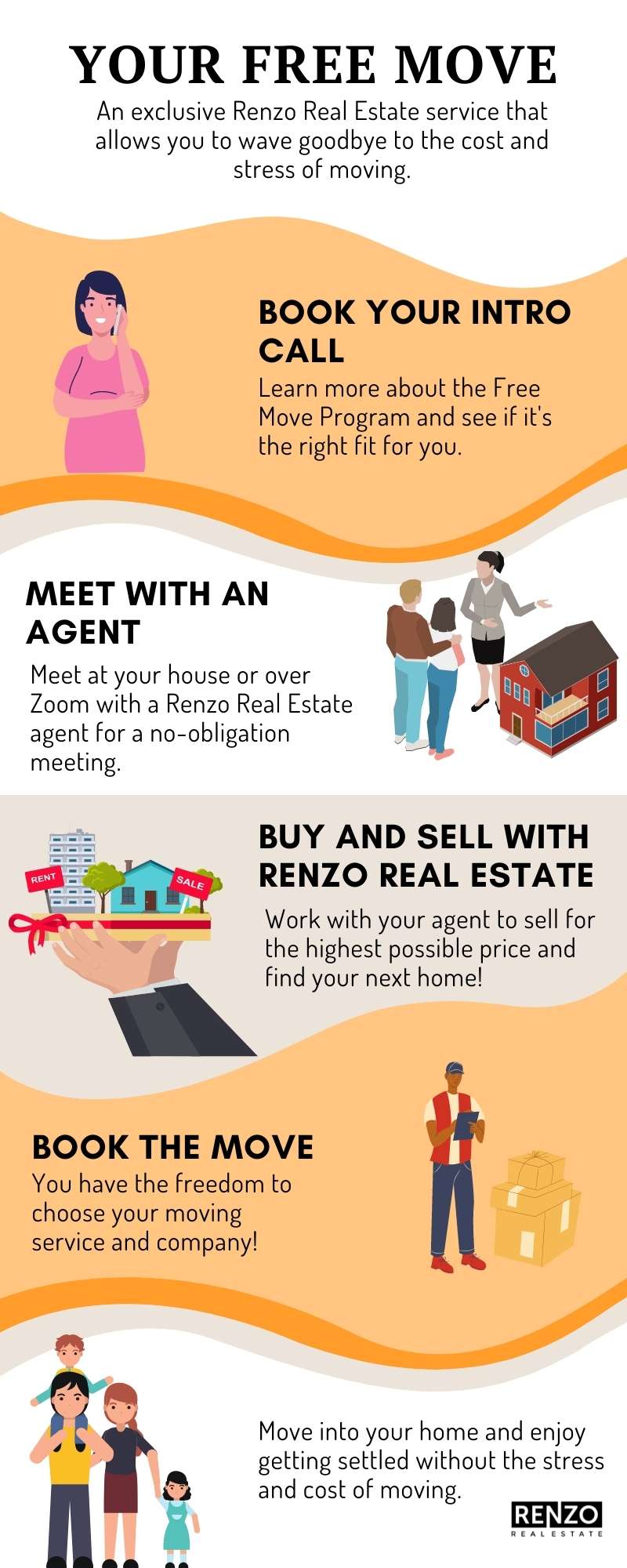 How it works
Book a 15-minute no-obligation introductory call to learn more about the service.

Choose between a meet and greet with a top real estate agent over Zoom or at your house. Your agent will go through the market, recent sales in your area, the Free Move Program, your buying criteria, and Renzo Real Estate's expert marketing plan.

You will then receive a detailed report complete with a home valuation and buying strategies in our current market.

Educational tours begin. Even before listing your home or starting to work together, you and your agent need to ensure you're the right fit. Educational buyer tours are home viewings to see if you and your agent hit it off! There is no pressure to proceed at this point!

If it's a fit, you will strategize with your agent on whether it makes sense to buy or sell first.

Then the touring and listing process begins!

Once you've received an offer that you're satisfied with and found a perfect home it's time to book the moving service of your choice.

Once the move is complete, Renzo Real Estate will credit you back up to $2,000.

FAQ
Do I need to use certain moving companies?
No, we believe you should have the freedom to choose your provider. We have some fantastic recommendations, but you're welcome to choose the company.
Does the free move only extend to moving costs?
No, most clients choose moving costs; however, you can select any approved expense that relates to your move. Approved expenses include moving companies, truck rental, packing services, and storage.
Do I need to buy and sell in order to take advantage of the free move program?
You need to buy and sell with a Renzo Real Estate agent in order to leverage the full program.
What is the maximum cost that will be credited back?
Renzo Real Estate will credit you back up to $2,000 on approved expenses.
Are there terms and conditions to be aware of?
Yes, but you are welcome to review the agreement well in advance and your agent can walk you through the details. Note, the terms and conditions of the free move may change at any time at the sole discretion of Renzo Real Estate.