Crescent Heights Homes for Sale
In Crescent Heights, there are both houses and condos for sale. For houses, there are bungalows, infills, luxury homes, character houses, development lots for sale and more. If you are looking for a condo, there are new condos, resale condos, townhouses, and 4-plexes for sale. This beautiful community is in both NE Calgary and NW Calgary. The location boarders Edmonton Trail to the east and 4th St NW to the west. To the north, 16th Ave NE is the cut off and to the south, Memorial Drive is the boundary.
And, if you haven't already, be sure to register for a free account so that you can receive email alerts whenever new Crescent Heights listings come on the market.
Crescent Heights
November 29, 2023
Crescent Heights Map and Postal Code
For neighbouring communities, you will find Renfrew, Bridgeland, Sunnyside, Rosedale, and Tuxedo Park. This area is in the T2E and T2M postal code.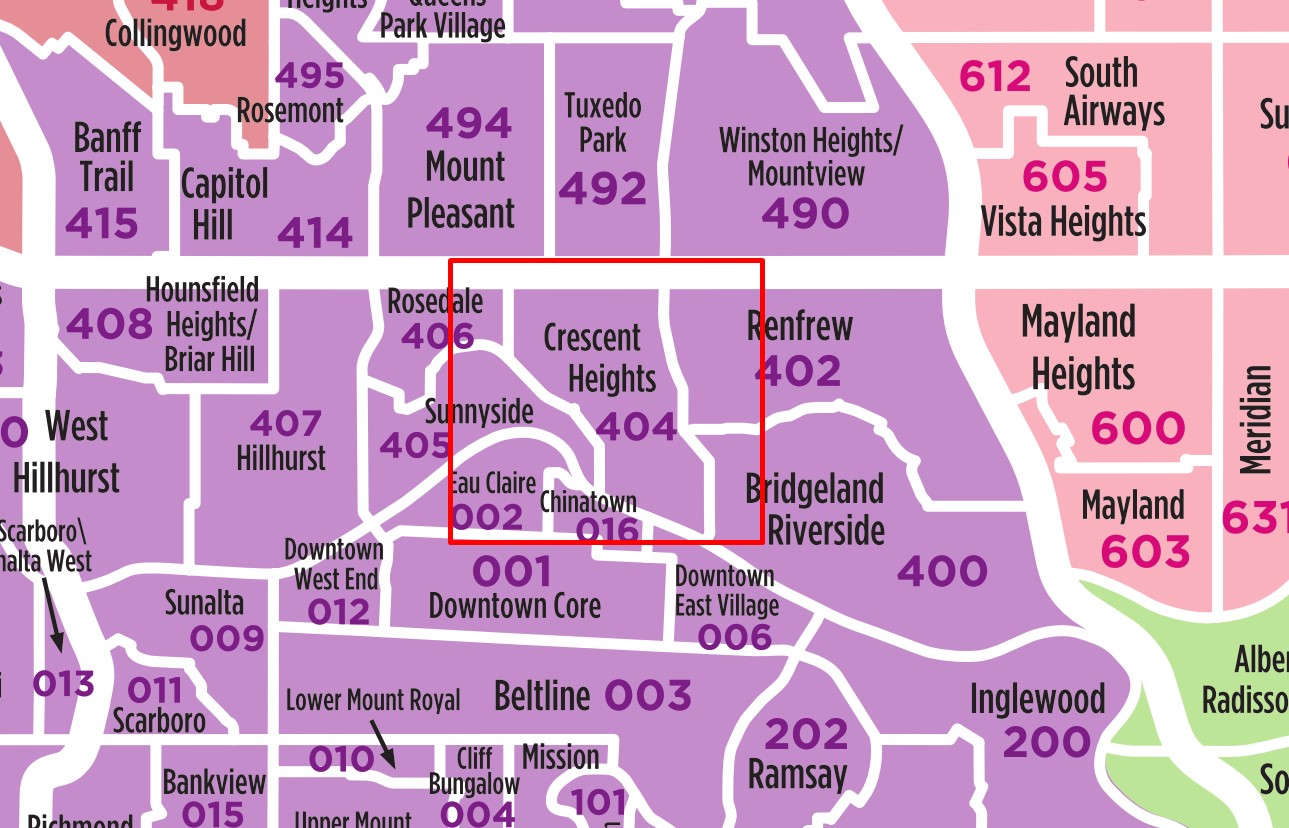 Real Estate Prices, Market and Information
There are 5,845 private households in Crescent Heights with a large age distribution of 25-29 years old and 30-34 years old. The approximate current average real estate prices in Crescent Heights are
Detached House: Approximately $530,000
Semi-Detached (Duplex): Approximately $610,000
Apartment Condo: Approximately $315,000
Townhouse: Approximately $430,000
If you are looking to buy a house in this area, you will have great access to Downtown Calgary and 16th Ave NE if you are looking to head out west to the mountains. Also, depending on your street, you can have stunning views of Downtown and there are several parks to enjoy.
The community association is located across from Crescent Heights High School at 1101 2 St NW
Crescent Heights Restaurants
In this community, you have access to all the delicious restaurants along Edmonton Trail and Centre Street N. As well, the famous Peter's Drive-In is located in Crescent Heights.
Some notable restaurants are Shawarma Ave, Blowers & Grafton, Halibut House, House of Kabob, Just BBQ, The Captain's Boil, Santorini Greek Taverna, Mango Mania, Tokyo Street Market, Po-ke, and more.
There is no shortage of amazing options if you are looking for a bite in Crescent Heights.
Crescent Heights View
If you are looking for a stunning view of the Calgary skyline, the lookout points on Crescent Road is the perfect spot. This street is known as one of the best spots to take photos in Calgary. There are various spots to stop along Crescent Rd to take in the view and there are benches along the road.
If you are looking for a spot to watch the Canada Day fireworks or just take in the changing downtown skyline, this is the place to do it.
You can drive up to the viewpoints on Crescent Road or, if you are feeling adventurous, you can park at the base of the Crescent Heights hill and take the starts all the way up.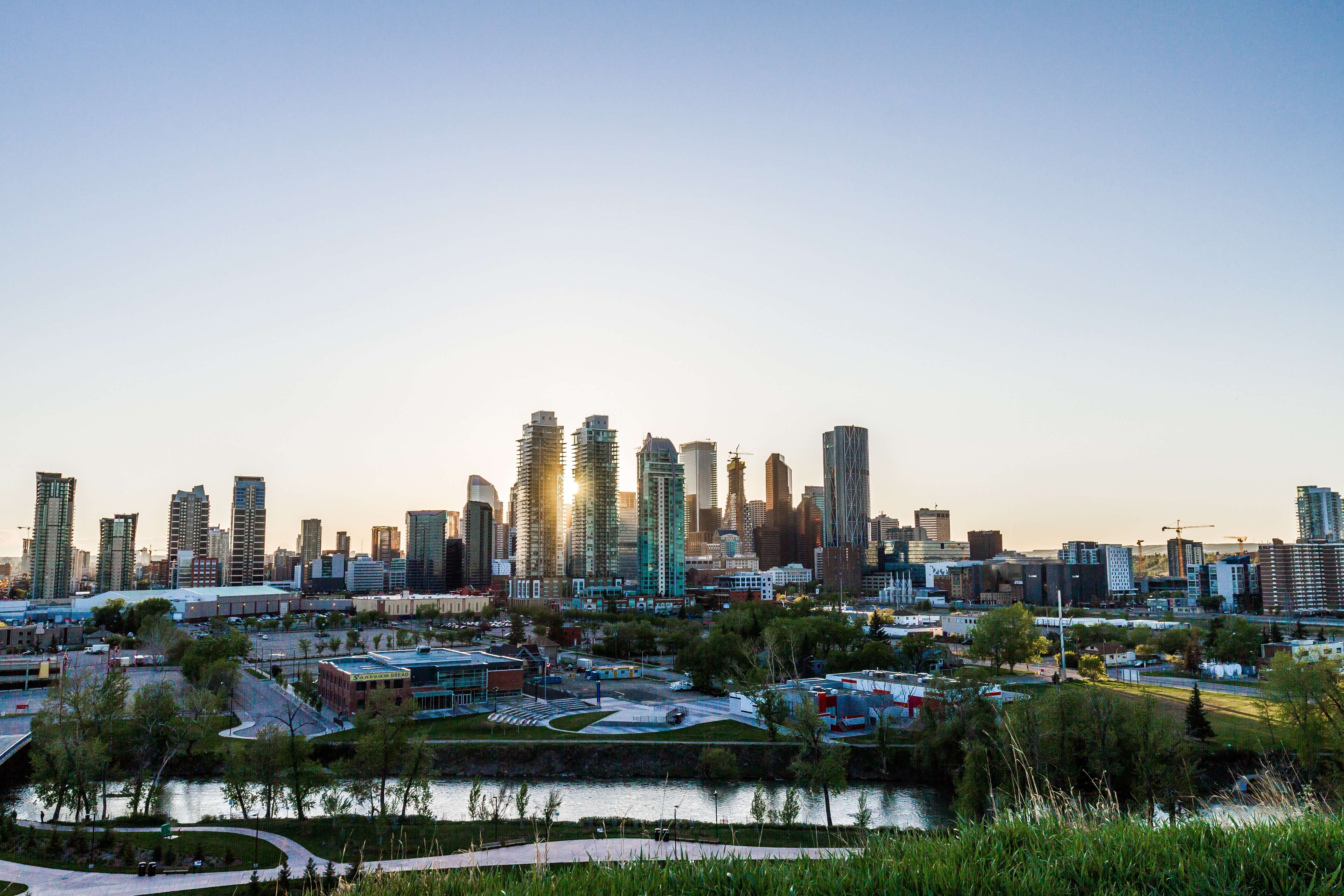 If you are also interested in real estate, then the view in Crescent Heights can be enjoyed on both sides of Crescent Road. The properties on the north side of the street, you will find some of the top luxury properties in Calgary.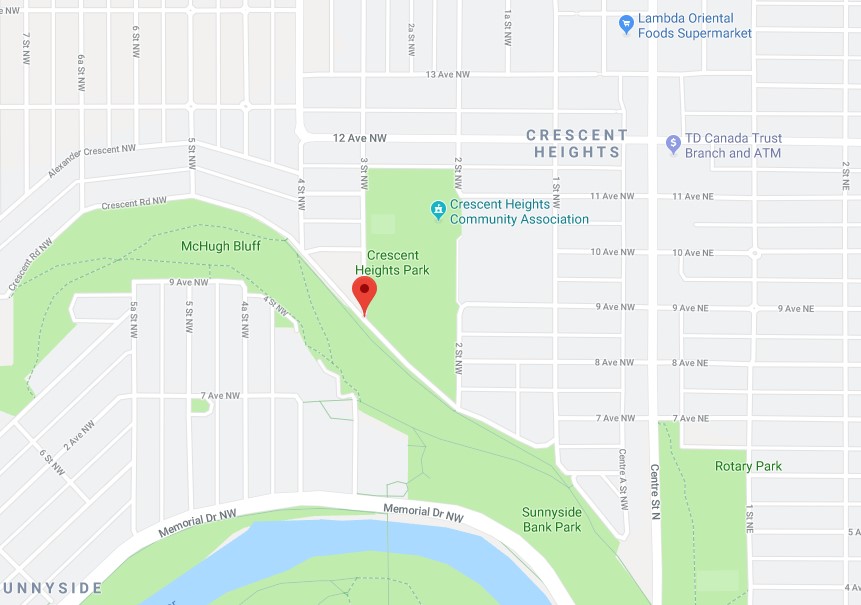 Things To Do in Crescent Heights
Rotary Park is a great top playground, spay pool, and off-leash dog park. Also, Crescent Heights Park is a nice large park for residents. If you are driving through this neighbourhood, make sure to stop on Crescent Road to enjoy the beautiful views overlooking the city. If you enjoy historical churches, stop by St. Vladimir's Ukrainian Orthodox Sobor in this community.
Although not directly in this Crescent Heights, Prince's Island Park is right across Memorial Dr NW as is The Calgary Zoo.
Crescent Heights Schools
This community is home to one of Calgary's largest high schools, Crescent Heights High School. This school was built in 1928 and has grades 10-12 as well as Advanced Placement (AP). Other Calgary Board of Education Schools in the area include Stanley Jones School, Rosedale School and Colonel Macleod School.
For Catholic Schools, there is St. Francis High School, St. Joseph School and St. Mary's School.
Crescent Heights Realtors
If you are looking for a Crescent Heights Realtor to help you buy or sell in this community, Renzo Real Estate is here to help you through this process. Feel free to reach out to Renzo Real Estate at 403-604-0300 or text 587-227-6204. If you are looking for your current home value and prices in Crescent Heights, please contact us today for a free home evaluation!
Similar Communities:
Renfrew Calgary, Bridgeland Calgary, Hillhurst Calgary
Sources