Bridgeland Homes and Condos For Sale
In this real estate guide, you will find all the community information, including all the Bridgeland houses and condos for sale on MLS. Browse all the current listings, explore the Bridgeland real estate prices, find the best restaurants in the area, find things to do, and learn the history of this vibrant Calgary neighbourhood.
Also, be sure to register for a free account so that you can receive email alerts whenever new Bridgeland listings come on the market.
In Bridgeland, you will find condos, townhouses, bungalows, duplexes, infills, new condos, luxury homes, and character homes. Also, if you have plans to redevelop, there are many lots in with R-C2 city zoning in the area. This established community is in NE Calgary. The locations border Edmonton Trail to the west. The northern boundaries come up along 4th Ave NE then through Bridge Crescent and Drury Ave NE. To the east, Bridgeland, according to the MLS map, goes to Thomson Ave NE. To the south, Memorial DR is the boundary.
Bridgeland
September 21, 2023
Where is Bridgeland?
Bridgeland is located in NE Calgary just north of Memorial Drive and east of Edmonton Trail. This community is a popular neighbourhood in Calgary with fantastic restaurants, pubs, amenities, and is walking distance to downtown. The neighbouring communities are Renfrew, Crescent Heights, Mayland Heights, and East Village.
Bridgeland Map and Postal Code
Here is a map showing the location of this community. Bridgeland's postal code is in the T2T area.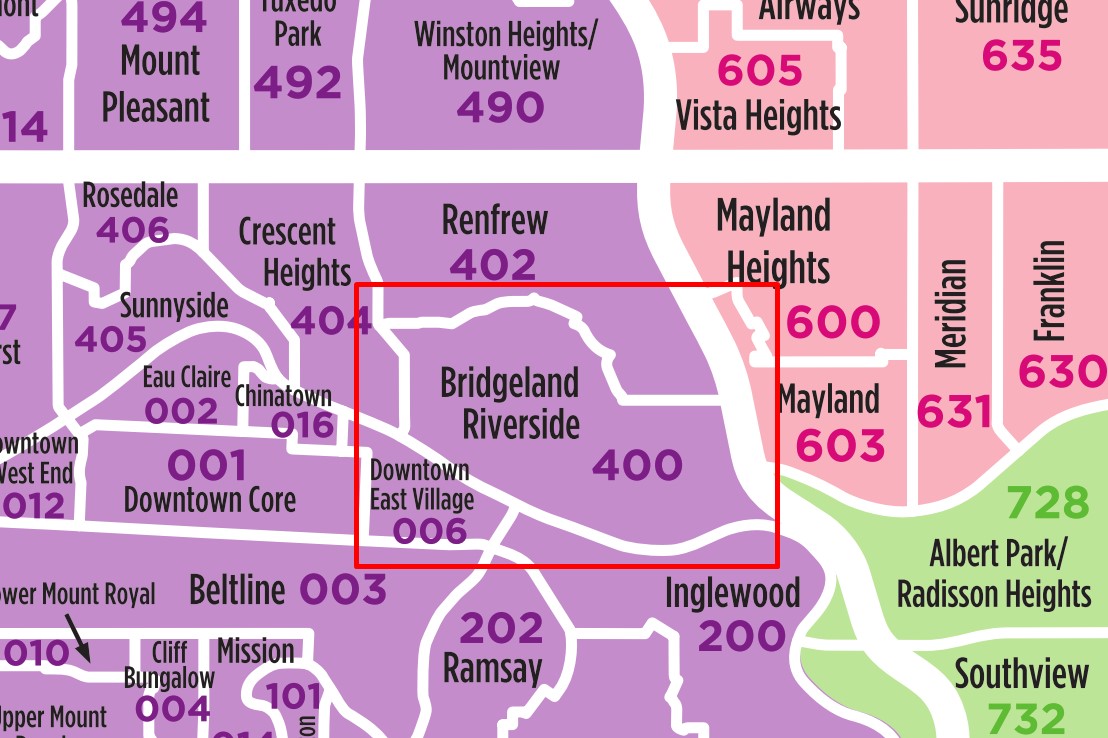 Real Estate Prices, Market, and Information
There are 5,485 private households in this community with the larges age distribution of 25-29 years old. Given this is an established neighbourhood, there are a variety of homes and condos for sale with a wide range of prices. Here are the current average real estate prices.
Detached House: Approximately $560,000
Semi-Detached (Duplex): Approximately $775,000
Apartment Condo: Approximately $355,000
Townhouse: Approximately $400,000
If you are looking to buy a house in Bridgeland, you will have several options to choose from, and you will have great access to downtown.
The Bridgeland Community Centre is located in the heart of the community at 917 Centre Avenue NE. The community association is very involved with the development, beautification, planning, and more. On their website, you will find social events, membership information, and community info.
Bridgeland Restaurants
If you are a foodie, this community is the perfect spot for you. There are several restaurants and pubs in Bridgeland as well as some of the top brunch spots in Calgary. For bunch, try Blue Star Diner, OEB Breakfast, or venture up to Renfrew to Diner Deluxe. For lunch spots, you can also try Burger 320, LDV Pizza Bar, Roma's Pizzeria, or Sushi Bar Zipang. Another great place is Tazza Deli & Grill and The Main Dish. For hearty Italian food, try La Brezza Ristorante or for ramen, be sure to try Shiki Menya.
If you are looking for a cocktail, try Cannibale Barbershop & Cocktails; and, yes, you can also get your hair cut! You can also grab a glass of wine at The Main Dish or head to Fiddler's Courtyard on Edmonton Trail.
There is no shortage of excellent cuisine in this fun community
Schools
Calgary Board of Education schools for Bridgeland residents include Stanley Jones School, Colonel Macleod School and Crescent Heights High School.
Langevin School is K - Grade 9 and includes a Science Alternative Program. St. Angela Workplace School is K - Grade 6. Delta West Academy is a private school in Bridgeland.
Things To Do
There is no shortage of activities in Bridgeland throughout the year. There are always activities happening at the community association and be sure to check out the Farmer's Market in the summer. The Calgary Zoo is walking distance to Bridgeland as is the Telus Spark Centre.
If you are looking to get outdoors, the river pathway system will take you as far as you would like to go along The Bow River. Alternatively, if you have a dog, be sure to Tom Campbell's Off-Leash dog park area.
For a trendy shopping experience, check out Luke's Drug Mart and Bridgeland Market. Both have a fun local flair.
Other popular spots in Bridgeland include Leela Eco Spa, Blush Lane Organics, and Starbucks.
Nearby, you will also find Studio Bell National Music Centre, the Glenbow Museum, Olympic Plaza, and Fort Calgary.
Getting to Bridgeland is easy with the Bridgeland/Memorial C-Train Station and Zoo Station within walking distance
New Condos For Sale in Bridgeland
Given the desirability of this community, developers have had their eye on Bridgeland and have built several new condos. Notable new condo buildings and developers working in this neighbourhood include Radius by Bucci, Era by Minto Properties, Bridgeland Crossings by GableCraft Homes and Apex, Bridgeland Hill by GableCraft Homes, Victory and Venture by The Providence Group and more. The following properties are new condos for sale in Bridgeland
New Condos For Sale
September 21, 2023
History of Bridgeland
This community is rich in history and was established by Russian-German immigrants in the 1880s. In fact, the neighbourhood was initially known as Germantown. From here, the community drew in immigrants from Italy and Ukraine.
The City of Calgary annexed this area in 1910, and the area became known as Calgary's Little Italy.
Bridgeland Realtors
If you are looking for a Bridgeland Realtor to help you buy or sell in this community, Renzo Real Estate is here to help you through this process. Feel free to reach out to Renzo Real Estate at 403-604-0300 or text 587-227-6204. If you are looking for your current home value and prices in Bridgeland, please contact us today for a free home evaluation!
Similar Communities
Inglewood Calgary, East Village Calgary, Renfrew Calgary

Sources
Bridgeland Community Association